Junior Academy Programs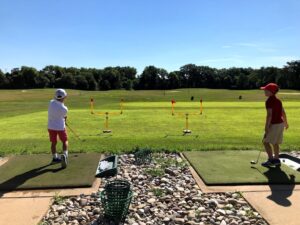 This program is designed to help junior golfers of all levels. Ages 5-16. We offer hour long sessions divided into 30 minutes of full swing fundamentals and 30 minutes of short game fundamentals and drills.
Our 30 day program consists of two classes per week. You can come to as many classes as you'd like during the time period you enroll for.
Classes are held on Thursdays from 4:45 – 5:45 pm and Saturdays from 1:00 – 2:00 pm.  

30 Days Junior Academy – $149
Topics covered:
FULL SWING – 20 minutes of reinforcing the core fundamentals which are the foundation of a good golf swing. Here are some of the techniques that will be covered during these sessions: Proper grip · Set –up · Balance · Alignment
SHORT GAME – 40 minutes of building proper techniques of putting and chipping All taught through FUN and engaging games and drills!